An interview with "Eurovision-2011" winner Eldar Gasymov.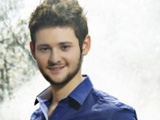 Eldar, what are you engaged in right now, any new song coming up?
Currently, I'm fully concentrated in "Don't be afraid, I am with you, 1919" movie. I'm scrutinizing the script, creating the image of the character I'm playing, doing everything as real movie actors. It's very entertaining and interesting. For me, it's a new experience to be someone else in front of the camera and remain as is the rest of the time. I'm also traveling with Nigar (Jamal). We are often invited to participate in various events in Europe and beyond. Besides, we are working on new songs, arrangements, orchestration and so forth. I hope in coming days my fans will be able to listen to news songs in my performance.
Tell us how the shootings going on? Who invited you to star in?
Excellent! When I'm in the shooting process, I feel myself in another world. It's terribly interesting, just can't explain with words. I learn much from beautiful and talented actors. To be frank, acting seems to be difficult so far. Oddly, there is a certain constraint in the entire crew and before the camera but everything comes out through experience. And now after many days of shooting, I'm feeling the experience and now it's a lot easier if to compare to the first day of shooting. I don't even want to remember (smiling).
Are you going to leave singing and concentrate only on acting?
Definitely no. I'm a singer at first. As far as acting goes, it's so far a lesson to me taught by talented and beautiful people. They are Polad Bulbuloglu, Lev Durov, Muxtarbey Khantemirov, Hajimurad Egizarov and others.
You and Polad Bulbuloglu himself will sing songs in the movie. What are the impressions?
I'm delighted with this idea. We have already recorded one part of the song. It gets gorgeous, knock on wood (smiling). I don't want to tell everything but I'm sure viewers will be satisfied with the result.
Many liked your performance at "Eurovision". Would you like to consolidate the image of a singer of lyrical ballads as it ideally suited you?
It's true that I feel very good while performing lyrics. Why not, it's a good idea but it doesn't mean that my reputation will have only ballads. I want very much to present my fans something hot and rhythmic as well. I want the audience to see me different and evaluate.
Would you like to take part at the next "Eurovision"?
I would indeed like to return there. I want to feel again the anxiety at the scene and become a part of the big musical event which will be held exactly in our country. Bu another point here is that everyone in this contest has one goal – to win. We already brought the victory to our country. If next year Azerbaijan wins again, it won't be me and Nigar, it will be someone else. This way, Azerbaijan will prove Europe that it has many talented and skilled people.
How important place does money occupy in your life? What's your attitude towards it?
Money- a means to stay alive. It's a commonly recognized fact. But what you can't but with money is health, happiness and most importantly, LOVE.
What is the most important thing in your life and what your dream is?
Each time when you succeed, a new aim comes out and you want to reach it too. First it seems very difficult and impossible, at least to me. I often doubt if I will pass all trials adequately. But If you try hard, you will eventually succeed. Now I think about creativity, want the gain worldwide fame. Actually, I don't want to talk about definite plans, afraid to put them evil eyes.
Do you plan further cooperation with Nigar?
Of course, yes. Nigar is very close and precious to me, beautiful friend and companion. Besides, we feel very well as being a duo. It think we will have many joint projects in coming future.
After you became famous, did you receive marriage proposals from girls?
Many girls have expressed their appreciation and enjoyed our victory. I still receive warm letters from everywhere, Europe and naturally from Azerbaijan. I'm very happy to generate such emotions in people of different ages. Some also confessed their loves which is also pleasant. I love them too and appreciate beautiful girls among them (smiling).
And the last question. Recently Nigar Jamal insured her face. What did you insure?
I think it's too early for me to ensure anything. So far, no one seemed interested in me that much (laughs).
/Vesti.az/