An interview of journal "Biz+" with winners of international song contest "Eurovision-2012" Eldar and Nigar.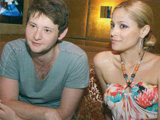 Eldar, before the song contest, contest you said in your interview to us that you "believe in victory". And you made it. What kind of change did you feel then?
I can't express it with words. I am happy that we justified the hopes pinned on us. This contest became a real school for me.
Nigar, how much time passed since you left Baku?
Already six years. During that period I missed my motherland very much. When I return here, I want to know every new thing, and to spend much time here. I come here only in Summer time, every year. It makes me happy to see how rapidly Baku changes. 
How did you meet with producer Isa Malikov?
We know each other since 1996. It was 1999 when we met the last time. And then after 10 years, we met again. I always dreamed to perform at Eurovision. I became very happy when received an offer from Isa Malikov to take part at the national selection round. I agreed without hesitation. 
Where do you hail from? Tell us some about yourself?
I am a Baku native, the second child in the family. Till 3, I was very calm and during school years, I was very active and participated in various events. I am a student of the Economy faculty at Khazar University. I have been engaged in music since childhood. It's from my mother. 
Your family lives in London. Isn't it difficult to be between the two countries?
I am trying to find the golden middle. During flights, I feel as if it's the hardest time ever. My husband is not jealous and always supports me. My daughters are little yet. They are both interested in music. My elder daughter already wants to be a singer. She sometimes even says "you promised to take me to Eurovision"… I am thinking about preparing them in this direction. But in future, it's up to them to decide.
Eldar, it is said that you wanted to become a doctor. What prevented you to follow that dream?
Actually, I had interest to that profession since my father was a doctor. However, I could not follow his path because I don't know physics and chemists well.
Before "Eurovision", you visited Germany twice and you studies German language despite the fact that English is more common. Don't you think that it was a kind of sign?
Maybe. I was in Germany in 2004 and 2008. I returned as a victor in 2011. 
How is your private life going on?
I live without love. Sometimes I ask myself, would I be able to concentrate in my work as strongly as now if I had a lover… I wish I had. I want to sing for her. Everyone should have his or her beloved, who would take care of you.
Did you have unlucky love?
I had one, we were together and then split up. But we are still good friends. She is one of the first persons who congratulated me with the victory.
/Day.Az/