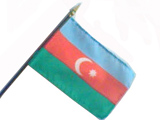 Azerbaijan honored art worker, artist Sakit Mammadov has been awarded with two international awards - "Dada Gorgud" Prize by International Foundation of the Turkic World and "Vatan Ovladi" Gold Order.
The awards were presented by Vice President of International Fund "Dada Gorgud" Eldar Ismailov during the opening ceremony of the artist's exhibition in Baku. Before awarding prizes to the artist, Ismailov said that he is proud that such a wonderful artist like Sakit Mammadov, who has contributed to popularizing Azerbaijan throughout the world, is his compatriot.
In his remarks to the awarding ceremony, Azerbaijan's Culture and Tourism Minister Abulfas Garayev said he would like to see the outstanding artist's exhibitions held not once in 8 years, but more frequently.
The ceremony was attended by wife of the Turkish minister of defence Sevim khanim, Head of the Humanitarian Unit of the Cabinet of Ministers Ismail Sadikhov, Maj. Gen. Shahin Sultanov, chairman of the editorial board of the International Journal "Azerbaijan Dunyasi" Arif Pashayev, state-honored artists Tahir Salahov, Salkhan Mammadov as well as other famous poets and composers.
The exhibition will last for one week.
/Vesti.az/