Safura Alizade is the most favorite singer of the Eurovision 2010 song contest.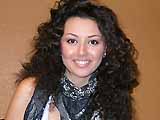 Germany's entry to the contest Lena Mayer-Landrut is said to be Safura's major rival. The other countries with good chances to win are Israel, Denmark and Armenia.
The CNN television channel says many say Azerbaijan will win the contest.
"Last year Alexander Rybak was indicated as a most favorite singer and he won the contest in the end. So, it is quite possible to say Azerbaijan's representative will win this year."
CNN Turk has also touched on rumours about Safura.
"The rumours in Russia have it that Azerbaijan has employed some tricks to win. Of course, these claims are unfounded. Russia faced similar accusations in a year when Dima Bilan won the contest."
/Milli.Az/