Berlin hosted exhibition of outstanding German artist Peter Foller.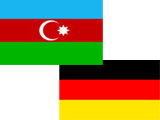 The exhibition featured his 'Absheron' and 'Odlar yurdu' artworks, dedicated to Azerbaijan. The Ambassador of Azerbaijan to Germany Parviz Shahbazov addressing the opening of the exhibition said that Peter Foller is a friend of Azerbaijan and the Azerbaijan's realities are often reflected in his artworks.
The diplomat also emphasized that the painter devoted one of his canvases to Khojaly genocide. In his speech Shahbazov also touched upon the steady development of Azerbaijan - Germany relations, bilateral cooperation, cultural links, and German cultural heritage in Azerbaijan.
According to the Azerbaijan diplomat, in June Baku's Giz Galasi art gallery will feature the solo exhibition of Peter Foller. In his address Peter Foller said that Azerbaijan always attracted him. "I hope I'll take a closer look at the Azerbaijani culture during my forthcoming visit to Baku", he emphasized.
/AzerTAc/