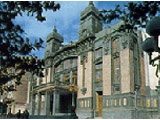 Symphony Orchestra of the Azerbaijan State Academic Opera and Ballet has received an official invitation from Ludwig Baumann, head of Munich opera festival, one of the most prestigious European festivals, to participate in this festival.
The symphony orchestra has twice participated in this festival and its performance was noted for the high feedback from organizers of the festival and music critics and the media in Germany.
The orchestra will participate the festival from August 5 to 10 and will take part in a gala concert in which along with the works of Western European composers, it will perform works by great Azerbaijani composers Uzeyir Hajibayli, Gara Garayev, Fikrat Amirov and Polad Bulbuloglu.
Notably, the orchestra will be conducted along with the People's Artist of Azerbaijan, a professor Javanshir Jafarov and artistic director and chief conductor of the Munich opera festival, Mrs. Cornelia von Kerssenbrofk.
/Day.Az/