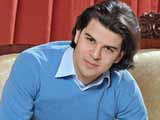 Young opera singer Javid Samadov, studying at the International Academy of Opera in Ozima (Italy), captured the victory at the Rosa Ponselle (American singer – soprano) International Competition held on April 27-May 2 in the Italian city of Matera X. 
It was attended by singers from different countries. Javid Samedov scored 98 points out of 100 and was awarded the first prize.
"This is the second contest in my life, but the result is the same - I was again the youngest first prize winner of the contest", - said Samedov.
"This competition was much harder, because I was away from home. There is nobody in the hall who would support you, and who would embrace you after the victory. Nevertheless, I think I adequately coped with the situation," - said the young singer.
The most exciting moment in the contest was for Javid when he was declared the winner. "I am honoured that I was able to achieve the first place for my country at this prestigious competition," - he said.
A young opera singer has already participated in various opera productions in Italy and is now in good standing in the Opera Academy, where he has been studying for 2 years. 
/Trend Life/

Click photos to enlarge: