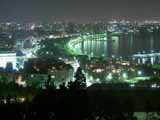 "Baku-Tabriz-Izmir nights" was held recently in the city of Izmir, Turkey. People's artist of Azerbaijan Flora Karimova, a known singer Aslan Husseinov, young variety performer Rovshan Jibishov and a journalist Firuza Asadullayeva were invited to the events.
Ashugs from Turkey Ali Riza Ezgi, Novruz Ali Chichek and a poet Ozturk Erbek attended the event. In the first part of the concert the audience enjoyed the works by Azerbaijani composers (such as U. Hajibayov, F. Amirov, and J. Jahangirov. A. Salimi) to the accompaniment of an Azerbaijani Elmar Azimzadeh and his spouse Bayim Azimzadeh, as well as Julien Lapu, Dilan Ilhan and Bahtiyar Ondar.
The second part featured Turkish songs and the works of foreign composers. An opera singer from Holland, Rza Tabrizli and Azerbaijani singer living in Turkey Elgun Guliyev, Azerbaijani pianists, a teacher of Istanbul Conservatory Tarana Abbaszadeh and Gulnara Ozdemir performed in the third part titled "Rashid Behbudov's commemoration concert". The poems recited by an announcer of the event M. Aligyzy were applauded by the public.
/Baku-Art.Az/