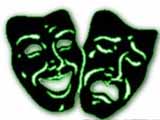 On the eve of the 100 year anniversary of the State Musical Comedy Theatre of Azerbaijan theatre holds a number of social projects.
Leading actors of theatre, outstanding masters of laugh, have visited boarding school for children deprived of the parental guardianship, located in Mardakan and Mashtaga territory, and also house for aged, located in Bilgah.
The theatre, also organizes open doors, for people with few opportunities and present new performances. On such days, taking part representatives of management of the organization of invalids of Yasamal area of League of invalids of Azerbaijan have sent the thank you letter to the theatre management.
/Baku-Art.Az/