An interview with Azerbaijan's representative to the 55th Eurovision Song Contest Safura Alizade.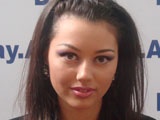 In which stage is the preparation for Eurovision-2010?
I'm preparing seriously. I'm going to make a new album. All songs in album are just great. It's interesting and honorable for me whom I'm working with. And I have wished to take part in Eurovision since my childhood. Now I'm very happy.
You have spoken about the responsibility of representation of Azerbaijan in Eurovision...
We're still in the first place in ratings. I'm trying to be real and hope that the result of this training will be positive and gratifying. For this I do my best. I'll prove my success those who don't believe in it.
It's interesting that, Turkish press has reported that Azerbaijan has bought over the first place in Eurovision 2010. These rumors aim to impede Azerbaijan's success. This is international contest. No one can buy anything here.
How did you see the selection of "Drip drop"?
I'm satisfied this song when I listened it first. I find something again, when I listen and sing this song. I hope that this song will grat a solid place for Azerbaijan.
The bookmakers praise Azerbaijan to win the contest...
I rejoiced over this news. I hope that it will remain unchanged.
The representative and songs of 39 countries has taken shape in Eurovision. Which representative do you see as a rival?
I can't answer this question. Because I have listened only a few of them. But I promise to listen to the rest in the next few days.
According to experts the main rivals are Denmark and Israel…
May be it'll be so. Denmark is represented by Nevergreen. He is a sufficiently popular singer. Israel's representative is good too. I'm proud of Azerbaijan's name is first places.
What do you get from working with Engineer/Producer Niklas Flyckt who worked with Britney Spears, Madonna, Celine Dion?
It's great responsibility for me to work with him. I learn more in training process and I'm sure that this training will help to my career in the future.
Anyone of your family members supports you during your training?
Yes, my mother is always with me. She is not with me, in training process but I speak to her every day and tell all processes to her. She gives me advices & encourages me.
Imagine, it's already May and you're in the front of international media in Oslo. How would you present Azerbaijan?
I'll tell most beautiful words about Azerbaijan. Our nation is peaceful and hospitable. Now I need great support. I want my nation to support me. Please, don't deny this support.
/
APA
/