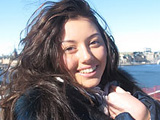 As the 2010 Eurovision season heats up, Safura, the charming Azerbaijani ESC hopeful, made a lot of British heads spinand propelled Azerbaijan to the top of the UK odds charts. On 16 March, bets on Azerbaijan winning the Contest floated between 36/5 and 8/1 on the British betting sites, well ahead of the other 38 participating countries.
And the main surprise? UK Eurovision aficionados have been enthusiastically betting their money on an Azerbaijani win even before the official announcement of the song to represent the country at the Contest. ITV, the Azerbaijani public broadcaster, is expected to announce its choice of the ESC 2010 song for Safura on 19 March. The channel's jury is choosing between the 3 entries, including Soulless, Drip Drop and Don't Let the Morning Come, all written by acclaimed European songwriters.
Meanwhile, Safura was delighted with this interim little victory and commented, laughing, that her intention and effort to rock Europe and shine on the Eurovision stage is beginning to pay off even before she expected it. "I will make sure I live up to the expectations of my fans in Britain, Azerbaijan or anywhere else in Europe", Safura added.
/Eurovision Talents/