Paris Hilton is believed to be considering marriage to boyfriend Doug Reinhardt.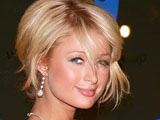 The socialite, who has been dating Reinhardt for over a year, said that she is "really in love" with her boyfriend and couldn't be happier with the Hills star.
E! Online quotes Hilton as saying at her 29th birthday party: "We'll see what happens in the future, but right now we are so happy to be together and we are really in love."
During the party, Hilton wrote on her Twitter page: "What a fun night! My mum and Doug were so cute dancing together! I love how my parents love my love! We all had a blast! Great night!"
Reinhardt recently got into a fight with Hilton's ex-boyfriend Brandon Davis, according to reports.
/Digital Spy/