Paris Hilton celebrated her birthday with boyfriend Doug Reinhardt on Saturday night, according to E! Online.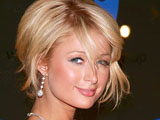 The 29-year-old hotel heiress threw a Las Vegas-style party at the Tao Restaurant and Nightclub in Los Angeles, where she was joined by parents Rick and Kathy Hilton, as well as a small group of friends.
Responding to rumours that the former Hills star may be about to propose, she said: "We'll see what happens in the future. Right now we are so happy to be together and we are really in love."
Hilton recently guest-starred in an episode of I Get That a Lot on CBS network, in which she played a petrol station attendant.
/Digital Spy/