Tom Cruise has reportedly banned his daughter Suri from wearing make-up.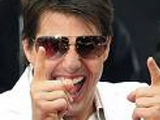 The 3-year-old has often been photographed wearing make-up and high heels and was named the "most fashionable child celebrity" in December.
However, Cruise has reportedly now told his wife Katie Holmes to stop applying make-up to their daughter.
"Katie was always allowed to dress up girly and she thinks Suri should be too," a source told the Daily Mail.
"Suri is just being a little girl, but Tom says they have a responsibility to set an example as they're in the public eye."
/Digital Spy/