Lady GaGa allegedly burst into tears during a topless magazine shoot.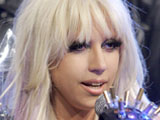 The 'Poker Face' singer was reportedly posing for pictures to accompany a cover story with Q when she was overcome with emotion.
According to The Mirror, GaGa wept: "I'm just not in a good place right now," she said, requesting that boyfriend Matthew Williams take the shots instead of the photographer.
A source told the publication: "Her behaviour was really weird."
/Digital Spy/