Just a couple of days after the announcement that Gwyneth Paltrow was joining the already all-star cast of Steven Soderbergh's Contagion, we now learn via The Playlist that erstwhile Morpheus Laurence Fishburne is also in talks to co-star.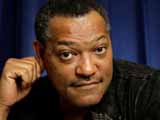 Sounds like the film is juggling this stonking acting roster by taking on multiple intersecting global plot strands, giving everyone something to do. The script by Scott Z Burns (The Bourne Ultimatum, The Informant!) involves an international pandemic. Fishburne, along with Matt Damon, Marion Cotillard, Kate Winslett, Jude Law and Gwynny, would be part of a team of doctors and scientists called on by the Centre for Disease Control. So the dream team start off together, but separate off into their own stories as they take their expertise out into the field.
Soderbergh is knocking this one out in between Knockout and Liberace, and the $60m project has, since we last reported, been picked up by Warner Brothers. Fishburne's involvement does, however, depend on scheduling: he's also got some Predators to fight.
/Empire Online/