Rihanna has reportedly been cast as a dominatrix in an upcoming martial arts movie.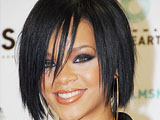 The singer has signed with an agent at William Morris and will star alongside Samuel L. Jackson in the remake of 1985 film The Last Dragon.
A source said: "She has landed an incredibly challenging role alongside Samuel L. Jackson. But it's not a part for the faint-hearted. She will play a super sexy, super kinky dominatrix.
"She has been told to research the part - and this could well include a trip to an S&M dungeon."
In December 2008, Wu-Tang Clan member and movie co-producer RZA told MTV that he was "rooting" for Rihanna to appear in the film.
/Digital Spy/