Madonna is reportedly hoping to have another baby.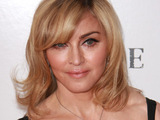 The 51-year-old, who already has four children, is allegedly looking for a surrogate mother to avoid the problems she faced when she adopted her daughter Mercy.
According to Grazia, Madonna began considering surrogacy after talking to Sex And The City star Sarah Jessica Parker, whose twins were carried by a surrogate.
"Madonna wants another baby of her own, so she's meeting with a fertility expert to discuss her options," a source claimed.
"After what Madonna went through during the adoption of Mercy, she is ruling out going back to Malawi. There's no way she wants to put herself in that position again, where she thought she had the baby, then there were endless delays and red tape."
The insider added: "She knows it will be tough finding the perfect surrogate to carry her baby, as they will have to be discreet and utterly trustworthy throughout the pregnancy and birth."
Madonna broke up with her long-term boyfriend Jesus Luz earlier this week.
/Digital Spy/