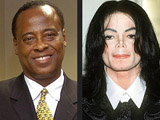 After days of speculation and rumor, Los Angeles prosecutors have announced that Dr. Conray Murray will be formally charged Monday in the death of Michael Jackson.
Although the district attorney's office has not confirmed it, Murray is expected to be charged with involuntary manslaughter, which carries a maximum penalty of four years in prison.
While Murray has admitted treating the late pop star for insomnia with the hospital-strength anesthetic propofol, he has denied any wrongdoing. The coroner ruled the singer's death a homicide caused by a propofol overdose along with a use of sedatives administered by Murray.
The filing of the case and Murray's surrender has been delayed due to infighting between the police and prosecutors, a source close to the matter tells PEOPLE. The LAPD wants Murray to be brought to a courthouse in handcuffs, whereas prosecutors feel that is unnecessary, given Murray's lack of a previous criminal record.
It remains to be seen whether Murray will be allowed to surrender Monday to a police station for booking and post bail, or whether he'll be arrested and brought to a courthouse in handcuffs.
/People/