Jessica Alba has revealed that her daughter is a bully.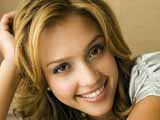 The Valentine's Day star said that she and husband Cash Warren were horrified to discover 19-month-old Honor Marie stealing from and pushing a friend during a recent holiday.
Alba told chatshow host Jay Leno: "We realised on this trip that my daughter is a bully. She would steal her girlfriend's toys and push her and pull her hair for a stroller or a baby doll or a purse."
The star also added that children completely change the dynamics of holidays, saying: "Now that you have kids it's different going on vacation.
"Single people aren't really trying to wake up early in the morning. They don't understand a meltdown, and a poopie diaper grosses them out."
/Digital Spy/