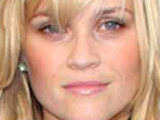 Reese Witherspoon has reportedly moved on to Gerard Butler after breaking up with Jake Gyllenhaal.
The Legally Blonde star is seeing Butler and an agent from Creative Artists Agency named Jim Toth.
The actress and Toth apparently went out for dinner last week and "were very flirtatious".
A source added of Witherspoon's alleged dalliance with Butler: "Reese doesn't want to hurt Jake's feelings and doesn't want him to know about her and Gerard."
/Digital Spy/