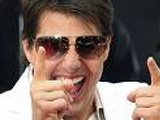 Tom Cruise has said that he would "love it" if his daughter Suri was more interested in his career.
The actor told OK that he would be over the moon if the 3-year-old learns to appreciate acting as much as he does.
"I'd love it. Acting is work I love. I love to create life and give energy, create characters and create stories," he said.
Cruise and wife Katie Holmes apparently recently took Suri to see musical Mary Poppins to assess her interest in theatre.
/Digital Spy/