Madonna has reportedly invested $1.5m (£938,820) in a brand of coconut water.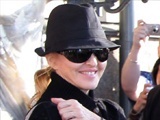 The Grammy winner set aside the funds for Vita Coco, a coconut water beverage made in Brazil, reports Fox News.
According to sources, Vita Coco is Madonna's drink of choice because of its health and anti-ageing benefits.
"She began drinking coconut water after workouts and shows. Madonna has a team of specialists around her including doctors, chiropractors and other people who could confirm that it's a healthy choice," said an insider.
The popstar's manager Guy Oseary and stars Matthew McConaughey and Demi Moore have also apparently invested in Vita Coco.
/Digital Spy/