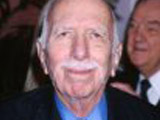 Hollywood producer David Brown, who helped launch Steven Spielberg's career, has died at the age of 93. Brown passed away at his home in New York City on Sunday following a prolonged battle with ill health. The movie mogul's long running career began in the 1950s, when he was credited with discovering the script for 1956 movie Love Me Tender, which brought music legend Elvis Presley to the big screen for the first time.
Brown went on to form a successful producing partnership with his longtime colleague Richard D. Zanuck. Their company launched in the 1970s with two of Spielberg's early films - The Sugarland Express in 1974 and Jaws in 1975.
Brown formed his own production company, The Manhattan Project Ltd, in 1988 and went on to secure success with movie hits including A Few Good Men, Deep Impact, Angela's Ashes and Road to Perdition.
He also produced numerous Broadway musicals including Sweet Smell of Success: The Musical and Dirty Rotten Scoundrels.
The 93 year old, along with Zanuck, was awarded the Irving G. Thalberg Memorial Award by the Academy of Motion Picture Arts and Sciences in 1990.
Brown is survived by his wife, longtime editor of America's Cosmopolitan magazine, Helen Gurley Brown.
/IMDb/