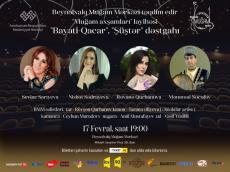 The International Mugham Center will present another evening of mugham music on February 17, Azernews reports.
During the concert, Sevinj Sariyeva, Nisbat Sadrayeva, Ravana Gurbanova and Mammad Najafov will perform "Bayati Qajar" and "Shustar" mughams.
Being one of the ancient musical genres in the ancient East, mugham has always attracted the attention of music experts and music lovers from around the world.
The mugham contains seven main modes - Rast, Shur, Segah, Shushtar, Bayati-Shiraz, Chahargah, Humayun, and three collateral kinds - shahnaz, sarenj, chargah in some other forms.
In 2003, UNESCO proclaimed the Azerbaijani mugham a "Masterpiece of the Oral and Intangible Heritage of Humanity". It was added to the UNESCO Intangible Cultural Heritage List in 2008.
The project "Evenings of mugham music" has been implemented since 2017.
Initiated by the Mugham Center director, People's Artist Murad Huseynov, the project aims to promote this centuries-old music genre.
A series of concerts organized within the project are broadcast by Ictimai (Public) Radio.
Over the past years, mughams, like Rast, Shur, Zabul-Segah, Chakhargah, Bayati-Shiraz, Humayun, Shushtar, Shahnaz, Orta mughams were performed on the stage of the International Mugham Center.
Along with this project, the center holds a number of projects covering various genres of music "Evenings of ashug music", "Evenings of vocal music" and others.