In January-October this year, the turnover of public catering in Azerbaijan increased in real terms by 19.5% compared to the same period of 2022 and amounted to AZN 1 billion 651.1 million, citinge to the State Statistics Committee, Azernews reports.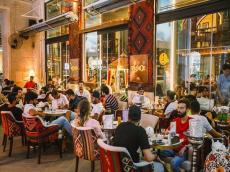 According to the information, the state sector accounted for 15 million 400.5 thousand manat of catering turnover, while the non-state sector accounted for AZN 1bln 635.7mln.
During the reporting period, 50.5 per cent of public catering turnover in the private sector belonged to legal entities, and 49.5 per cent - to individuals carrying out entrepreneurial activities in this sphere.
The turnover of legal entities increased by 20.8% over the year and totalled AZN 825.2 mln.