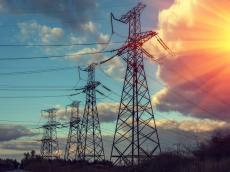 By Azernews
Azerbaijan and the United Arab Emirates have discussed cooperation opportunities for electricity production and export.
The discussion took place during a meeting between Azerbaijan's Energy Minister Parviz Shahbazov with the UAE's Energy and Infrastructure Minister Suhail Mohamed Al Mazrouei.
During the meeting, the parties discussed investment projects planned in Azerbaijan's renewable energy sector, as well as natural gas and energy efficiency.
They noted that the construction of the Garadagh solar power plant will contribute to the high relations between the two countries. The UAE expressed further interest and support for the development of this cooperation.
Moreover, Parviz Shahbazov thanked him for the high-level organization and invitation to the World Utilities Congress. He noted that this event is crucial in terms of discussing bilateral energy cooperation between the countries along with the issues on the global energy agenda.
The sides also touched upon the current situation in global energy markets and issues arising from cooperation within OPEC+.
Parviz Shahbazov is paying a visit to the United Arab Emirates to participate in the World Utilities Congress, which is being held in Abu-Dhabi on May 9-11, at the invitation of Energy and Infrastructure Minister Suhail Mohamed Al Mazrouei.
The trade turnover between the two countries amounted to $50.4 million in 2021.
Last year, Azerbaijan and the UAE signed an agreement on pilot projects in renewable energy. Under the agreement, the building of a 230-MW solar power plant is planned. On March 15, Baku's Gulustan Palace saw a groundbreaking ceremony for the 230 MW Garadagh solar power plant. 
The plant is designed to produce 500 million kWh of electricity per year and supply it to approximately 110,000 households. Furthermore, the plant will reduce gas consumption by 110 million cubic meters and environmental emissions by 200,000 tons. Over 500,000 solar panels are expected to be installed.
The solar power plant is scheduled to be put into operation by the end of the first half of 2023.