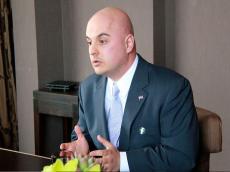 By  Trend:
Resignation of Armenian prime minister Serzh Sargsyan is the most positive event in the country's recent history, political analyst and international relations expert at the Milwaukee-based Marquette University Peter Tase told Trend.
He noted that April 23, 2018 will be remembered for a long time among the people of Armenia, and the world community, due to the fact that democratic forces inside the country have prevailed and ousted one of the nation's longest serving autocrats and blood thirsty criminals, Serzh Sargsyan, who has succumbed the Armenian economy into ruins during his ten years in office as president.
"Sargsyan was made a Prime Minister by mid April 2018, heavy protests against his attempts to clutch into power, resulted fruitful and the Armenian people have hopes to move forward in a positive fashion. Sargsyan was heavily pressured to resign from domestic and international actors, it is certain that he was not expecting such an abrupt escalation of protests," said Tase.
The US political analyst believes that the international community must pressure the current government of Armenia to find a solution of the Armenia-Azerbaijan Nagorno-Karabakh conflict and ensure the full and complete withdrawal of Armenian armed forces from the sovereign territory of Azerbaijan.
"Armenian President Armen Sarkissian must initiate a new proactive chapter of negotiations with the government of Azerbaijan and reject the current status-quo in regards to the Nagorno-Karabakh conflict," said Tase.
He noted that today there is more hope than ever before, to bring before the International Court of Justice all Armenian war criminals that have committed massive crimes against humanity in the sovereign territory of Azerbaijan and killed innocent Azerbaijani civilians.
Mass rallies broke out in Yerevan and other Armenian cities on April 13 following former Armenian President Serzh Sargsyan's nomination as prime minister. The opposition accused him of ineffective governance and worsening the economic situation in the country.
On April 23, Armenian Prime Minister Serzh Sargsyan resigned.
The conflict between the two South Caucasus countries began in 1988 when Armenia made territorial claims against Azerbaijan. As a result of the ensuing war, in 1992 Armenian armed forces occupied 20 percent of Azerbaijan, including the Nagorno-Karabakh region and seven surrounding districts.
The 1994 ceasefire agreement was followed by peace negotiations. Armenia has not yet implemented four UN Security Council resolutions on withdrawal of its armed forces from the Nagorno-Karabakh and the surrounding districts.