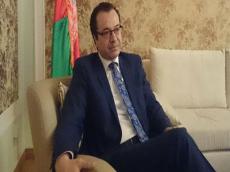 By Azernews
By Rashid Shirinov
The vital role of Azerbaijan in Heart of Asia (Istanbul Process) in particular, co-chairing Heart of Asia meetings and hosting its ministerial conference in 2017, is a clear sign of Azerbaijan's enduring commitment to Afghanistan on its path towards peace and stability, said Afghan Ambassador to Baku Taqi Khalili.
"Indubitably, the cooperation between our two countries have gained momentum in addressing  regional challenges. We have a common understanding of our regional problems and issues and are joining forces to tackle them," Khalili said, the Afghan embassy reported.
 Azerbaijan assumed the co-chairmanship of the Heart of Asia – Istanbul process for 2017 in early December 2016.
The Heart of Asia Conference is an intergovernmental organization founded in November 2011 by Istanbul, Turkey. The aim is to provide a platform to discuss regional issues, particularly encouraging security, political, and economic cooperation among Afghanistan and its neighbors.
This region-led dialogue was launched to expand practical coordination between Afghanistan and its neighbors and regional partners in facing common threats, including counterterrorism, counternarcotics, poverty, and extremism.
The envoy further voiced his country's gratefulness to the leadership and government of Azerbaijan for this initiative to co-chair and host the Heart of Asia conference in 2017.
"This positive relationship in the continual strengthening of our two countries is a pivotal interaction of Islamic and regional significance for future prosperity," he concluded.
Azerbaijan, as a reliable partner of NATO and friend of brotherly Afghanistan, is committed to continue its significant contribution to the Resolute Support Mission beyond 2016 by providing troops, multimodal transit, training and financial assistance.
The country has several times made substantial donations to the Afghan National Army (ANA) Trust Fund. Moreover, Azerbaijan supports Afghanistan on its path of reforms towards integrating into regional and global economy.