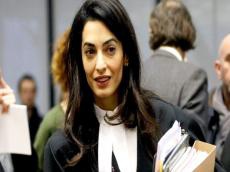 By Gunay Camal
Human rights lawyer Amal Clooney, who's famously married to Hollywood star George Clooney, this time choose Azerbaijan as a target in her bid to catch up her husband's fame.
Clooney, who earlier appeared in a case against a Turkish politician refusing the so-called Armenian genocide, has offered to take the case of jailed Azerbaijani journalist Khadija Ismayilova to the European Court of Human Rights.
Mrs. Clooney, whose international profile was raised when she married American actor George Clooney in Italy, seems trying hard to prove all that she also can be a celebrity and likely with the advice of Armenian lobbyists targeted the Turkic states in her "path of fame".
Anti-Turkic activities indeed helped Amal, a Lebanese by origin with close roots to large Armenian community in her motherland, to get distinguished in her lawyer career.
Amal Clooney took on the controversial case in early 2015 and was part of a team representing Armenia against Turkish politician Do?u Perinçek, chairman of the Turkish Workers' Party, convicted by Switzerland for denying the so-called Armenian genocide.
In October last year, the European Court of Human Rights (ECHR) has ruled it is not a crime to deny mass killings of Armenians by Ottoman Turkey in 1915 was a "genocide".
Thus, Mrs. Clooney in her first attempt failed to rival her Oscar winner husband, but this scandalous case, to be true, enormously raised her popularity.
So, deeply committed to anti-Turkic ideals Amal Clooney now has taken to Azerbaijan, first to prove her loyalty to Armenian lobbyists and second, to undersign another big case without caring who wins.
Mrs. Clooney, strongly keeping her shattered background as human rights fighter, has decided to indulge into fighting for human rights even not knowing exactly who she is defending. In her televised interview for VOA she did not name even her client, just calling her "courageous women".
Khadija Ismayilova, or the 'courageous women' as Amal Clooney named, in fact was enough courageous to make money by illegal means while working for Radio Liberty.
Khadija, working at the media structure financed by the U.S. Congress, was able to make illegal money by inking commercial deals and covered her spivvery with the so-called fight against corruption.
One may hope, Mrs. Clooney would have got time apart star couple life to read the related materials over the case before announcing a war against Azerbaijan's judiciary system.
Not last but least rises a question, why Azerbaijan? Why Amal Clooney decided to turn her eyes to this country, mainly referred as the land of complete tolerance, at a time when the world 'seethes' with news of Syrian refugees, whose rights are ignored, or Armenian journalists in jail. She could also fight for the human rights of over one million Azerbaijani refugees and IDPs, whose rights were grossly violated, who were deprived of their homes and even a visit to the graves of their beloved turned into the life imprisonment in the occupant Armenia, so much loved by Amal Clooney.
Obviously, Mrs. Clooney may even now guess her next failure, but she as an ambitious lawyer knows very well that will help her to add coins into her 'fame box".