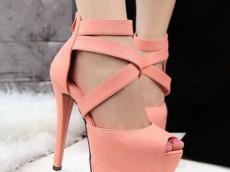 By Amina Nazarli
You can hardly find a woman who has not at least one pair of high-heeled shoes in her wardrobe, and there is hardly any who has not experienced pains in the toes and feet, walking a whole day with high heels.
The perfect pair of 10cm heels can make any outfit look gorgeous, but sometimes much consequences comes with this style.
Some women think high heels are perceived to be worth the pain because they make legs look taller, feet smaller and the body thinner. Moreover, it's the best way to attract the attention of the opposite sex. A recent study finds that high heels make women more sexy than flat shoes, even if the man does not see her face or figure.
"Heels look cool," believes 22-year-old Laman. "I feel myself more comfortable, and sleeker on heels, moreover, my gait is changing, and posture is straightened."
What about the damage of high heels? "If it comes to that, everything is harmful, and often flat shoes also damage. But it is necessary to combine, and not to wear high heels all day long, in addition to do foot massage and baths for foot."
Women often make sacrifices for foot fashion, but at what price?

Studies show that wearing towering shoes regularly and for long periods of time can affect many parts of women body including hips, spine, feet, ankles and knees, as well as altering their gait and posture.
Heels shift forward pelvis and tilt it backward. This increases the pressure on the lumbar region of the spine and the muscles. Some women in high heels may even suffer from spondylolisthesis, the forward displacement one vertebra relative to the other, resulting in nerve damage and severe pain.
For people who suffer with diabetes, the shift also increases the likelihood of pressure ulcers forming under the ball of the foot and this, in turn, can lead to serious foot complications.
The recent study conducted with the participation of the South Korean airline's staff, turned out that only a few years of regular wearing high heels lead to an imbalance between the muscles on the front and back side of the ankle, causing them to become unstable, and it becomes difficult to maintain a balance.
Going for shoes with a flat sole, however, ensures that the muscles begin to work properly and one becomes to hold the balance.
Is wearing flat shoes a way out?
Maybe yes, but women still have to be careful. Many women's flat shoes today are too flat and they have a pointed toe box, which is badly lays down on the foot. And the result is deformity of the toes and joints. Doctors awarded such shoes first place in the ranking of unhealthy shoes.
Many Hollywood stars have also raised their white flags after orthopedist advised to take off high heels.
50 year-old fashion divas Sarah Jessica Parker also changed her attitude towards towering heels, after the years of running around New York in high shoes, which had permanently damaged her feet. Now she has to wear heels only for red carpet events after developing an extra bone in her foot.
But what if some glamorous women do not want to give up heels. In this case, specialists advise to wear thicker heels, since they help balance, and not to keep heels to 5cm or above. Moreover, wearing soft insoles can reduce pressure on your knees.
If you are at the office take the heels off and do stretching exercises for your feet and calves. But the best just not walk in them in everyday life.