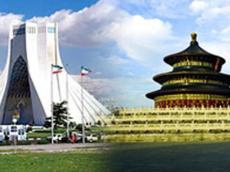 By Sara Rajabova
The expected removal of the nuclear deal opens up new opportunities for Iran. Though the sanctions haven't lifted yet, many countries and their respective companies have lined up to gain more advantage from the renewal or restoration of economic ties with the Islamic Republic.
The European countries make the majority among such countries. The delegations from the different European countries have increased visits to Tehran with an aim to get benefits from cooperation with Iran.
On the other hand, Iran's traditional partners are also determined not to miss the boat in competition with the Western countries.
Iran's partners such as India, Pakistan, China, who continued the cooperation with the Islamic Republic during sanctions-period, have increased efforts to expand the collaboration with Tehran.
Especially, Iran's long time partner China is interested in expanding economic cooperation, especially in the field of investment and providing financial resources.
Over the past few decades, China and Iran have developed a broad and deep partnership centered on China's energy needs and Iran's abundant resources as well as significant non-energy economic ties.
One of the main pillars of the relationship is oil and gas. China switched to petroleum primarily to get its energy supply off of coal. In 2011, approximately 10 percent of China's oil imports were from Iran. Approximately 80 percent of China's total imports from Iran are oil and the rest is mineral and chemical products.
Over the past several years, China has become Iran's number one oil customer and trading partner.
Because of this reliance on Iranian oil and gas, China is now investing in the modernization of Iran's oil and gas sector to secure access to the resource.
China has provided Iran with the technological know-how to develop its energy resources. Chinese engineers have also built bridges, dams, railroads, and tunnels throughout Iran.
Iran has focused on rebuilding its refinery capabilities, hedging against U.S.-led sanctions, and advancing its nuclear energy capabilities. China plays an important role as a major commercial and political partner.
Iran's Petroleum Minister Bijan Zangeneh has recently said Iran may award phase two of the North Azadegan oilfield to China for development.
China's CNPC and Iran's PEDEC have already signed an initial agreement to produce 25,000 barrels a day from the field in the second phase, according to the Iranian official.
CNPC also operated the first development phase of North Azadegan and was expected to begin production around October last year with 75,000 bpd.
In 2013, Iran canceled a $2.5 billion contract to extract oil from the South Azadegan field and another deal to develop phase 11 of the South Pars natural gas field after CNPC spent four years just to start the projects.
China's energy companies were reportedly instructed in 2010 to slow or stop work in Iran because of pressures from the US which has a sanctions regime in place against Tehran.
State-run Sinopec Group and China National Petroleum Corp (CNPC) had been reported to begin producing 160,000 barrels a day of oil from South Azadegan and Yadavaran in southwestern Iran from October.
Sinopec officials have said they expected the first phase of the Yadavaran oilfield to yield 85,000 bpd.
Yadavaran, which Iran shares with Iraq's Sinbad, was awarded to Sinopec about nine years ago in a $2 billion deal to operate the first phase in July 2014 and raise recovery to 200,000 bpd in the second phase.
Chinese companies are also making investments in Iran's petrochemical projects. 16 petrochemical projects with a total budget of $16 billion have been introduced for Chinese finance, according to CEO of Investment at the National Iranian Petrochemical Company Amir Hassan Fallah.
He added that so far worth $12 billion of the finance has been referred to the Central Bank of Iran for receiving facilities.
Development of railroad transportation, Tehran-Isfahan high-speed train project, electrification of Tehran-Mashad railroad and development of Chabahar Port and its connection to other Central Asian ports by railroad are also among areas of cooperation between the two countries.
With an aim to help ease their mutual trade activities, Iran and China are moving toward a crucial currency swap mechanism.
The Chinese government has decided to swap currency with Iran, Deputy Chairman of Iran-China Chamber of Commerce Majid Reza Hariri said.
The mechanism envisages payments in yuan to suppliers of commodities and services to Iran in return for the oil that Beijing purchases from Tehran.
China reportedly owes Iran over $20 billion in outstanding oil payments. The cash has been frozen in overseas banks after the US-led sanctions made it difficult for Beijing to transfer money to Tehran. Accordingly, the two countries have reportedly reached a deal to settle a part of the frozen money through China's funding of Iranian petrochemical projects.
The decision on currency swap comes after China recently succeeded in making yuan stand as an internationally credible currency.
However, Hariri said it must be seen what method China will use for swapping currencies and when the intention turns practical.
The Iranian officials consider that China is expected to remain Iran's top partner in 2016.
China is partner to 25 percent of Iran's foreign trade.
In 2015, Iran-China trade fell by 34 percent after key goods such as oil, gas condensates, and iron ore lost much value.
Beyond its oil resources, Iran plays an important role in China's regional economic ambitions. Since 2013, China has pushed to expand its overland trade routes through the Silk Road Economic Belt, an initiative to build roads, railroads, and other transportation infrastructure throughout Central Asia. Iran is a critical part of this plan, due to its strategic location with access to key waterways.