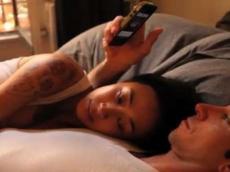 By Laman Sadigova
Popularity of or it would be better to say a 'dependence' on our gadgets is a hot topic not only for psychologists, but also occasional jokes and anecdotes nowadays.
Smartphones have become so ingrained in our daily lives that it's difficult for many of us to consider going about our days without them at our side.
You may have seen on the picture of an old lady, surrounded by a large family, sitting alone on the couch, while all the family members are buried in their phones like zombies. Unfortunately, this situation is familiar to almost everyone, quite often, being in the company of friends and relatives, there is nobody to talk to.
Not so long ago the world-famous research by TNS released the results of the study, according to which every owner of a smart phone look it the screen average of 3 hours and 20 minutes every day. In other words, 49 days a year we dedicate to our phone's screen.
The company conducted its study among young people of the age gap between 16-30 years. It turned out that if a person lives 80 years, more than 8 years of life will be dedicated to mobile games or flipping the latest news in social networks.
People cannot break away from their phones at home, at work, at school, in public transport, shops, even in the theater or in places that are not designed for this purpose.
We have created a monster that is consuming us. And I don't mean that "the Internet is bad", absolutely no. Just thinking about my childhood when I used to watch cartoons during my breakfast and before sleep only, not having any interest or desire to go on with it more because of active child plays and intensive communication with all around, I realize that I miss those times. People now are so lost in their social media, instant messages that they even do not recognize that life is passing through them, leaving them no time to "live it through."
Technology is now a powerful extension of the human mind; it captures life but keeps us out of it, keeps life safe, but in the process denies us access to it.
Your real-life relationships are more important than anybody who might want to contact you via facebook, twitter, email or any text messaging application. When you are with your partner or real-life friends give them your whole attention. The world will not come to an end if you put your smartphone on silent for a while.