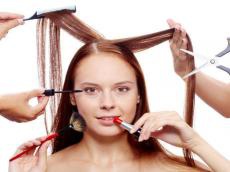 By Amina Nazarli
Ideal beauty has been a heated issue for centuries, as each era and each nation has had its own conception of human beauty.
People meticulously evaluated a man's or women's attractiveness. Their response reflected their expectation of this issue.
In Egypt, for example, the ideal beauty was a slim and graceful woman with full lips and huge almond eyes. To dilate pupils and make eyes more shiny, servants dropped the juice of the "deadly nightshade" plant into their eyes.
Another ridiculous method was done by Japanese. Girls with black teeth looked very trendy and stylish in the Land of Sunrise. So, girls specially coated teeth with black lacquer.
In ancient China, women with tiny feet were considered as the most beautiful women. They even tightly bandaged their girls' feet so that their legs remained small. Incidentally, the main advantage of men in China was their long braided hair.
For decades, the notions of beauty have changed. And what once seemed fine, later was considered almost ugly, and vice versa.
In 1950s, a new standard of female beauty was set. Marilyn Monroe was the epitome of feminine beauty with her shapely legs, slim waist, magnificent breasts and full lips.
The 1970s change the beauty industry and slim girls with boyish figure became the standard of beauty. But, then in the 1980s women with muscles came to the fore. Women begin to actively engage in sports and gain the weight.
So, what is the standard of female beauty in our time? The girls not less than 175cm and forms of 90-60-90 cm, long hair and regular features are considered as trendy. It does not mean at all that others are unattractive. Many singers and actresses with short hair, curvy shapes and small stature remain examples of imitation.
Most of us want to remain young forever but time does not wait for us. This is a great tragedy for women who are accustomed to consider themselves as beauties.
Thousands of scientists, doctors and other professionals have been working tirelessly to discover new ways to slow aging.
Indeed, there are women who do not get older "at all": their skin is clean, and there is almost no wrinkle on their face, except the mimic ones around their eyes. In their 40, they look like 30. Many specialists claim that it depends on their genetics. And they are right.
Recently, European scientists from the UK and the Netherlands came to this conclusion that certain genes, called "Peter Pan" are responsible for the aging process. The owners of this "magic" gene preserve a youthful face to the very old ages.
Well, those who don't have this "magic" gene have to go to extremes. They desperately resort to various procedures and operations of artificial rejuvenation, such as Botox injections.
This drug blocks the neuromuscular transmission, which weakens the muscles. Small and even deep wrinkles are removed and the skin surface becomes smooth and supposedly young. Women, and in recent years, even men, go under the knife for a variety of plastic surgeries to make their bodies look more attractive.
Those who do not dare to do so just have to sweat in gyms and consume only organic product and a lot of water. The latter is much better than surgery, which gives no guarantee that you will not suffer from side effects.
Few people know that the history of plastic surgery began with the tragedy and executions. In India, there was a custom of cutting of noses of public officials who were abusing their powers. Thus, Indian doctors began to recover the loss with the help of a skin graft.
There is a theory that women from Asia look much younger than women of other races.
They have learned to use natural resources to look younger than their age. Instead of expensive cosmetics, they retain their natural beauty using natural remedies.
For example, Chinese women used pearl powder to slow the aging process. Proteins, minerals, amino acids that they contain allow the skin to rejuvenate itself naturally.
The secret of youth of Japanese women is Wakame algae, which contains substances useful for skin. Consumption of algae helps them reduce the risk of breast cancer, promotes weight loss and lower blood pressure.
Even they did not manage to avoid oldness, which expects all. It is because, Asians have slightly different composition of the facial muscles, by 45 years they look younger than their age and then a sharp aging is coming and at 60 they look even older.
Dear men and women, never forget that every age has its own beauty. You are unique, and that means, you are beautiful.
And finally, smile more often, as smiling people attract attention regardless of their age.