May 17 Chairman of the Constitutional Court of the Azerbaijan Republic Farhad Abdullayev met the World Bank Country Director for South Caucasus, Ms. Donna Dowsett-Coirolo.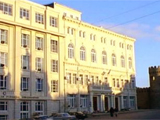 As AzerTAg reports, F. Abdullayev has informed on the judicial reforms which have been carried out in Azerbaijan last years, has explained procedure concerning right of citizens directly to address in the Constitutional Court within the said reforms.

He said, that the project of modernization of the judicial system, carried out by the World Bank together with the Government of Azerbaijan, would promote equipment of all judicial bodies of Republic, including and Constitutional Court, with modern equipment, improvement their work, more operative studying of the complaints of citizens.
Having emphasized, that the given project will be successful and will benefit work of the Azerbaijani courts, Ms. Donna Dousett-Koirolo has stated, that equipment of courts of Republic for their adequate activity is a component of judicial reforms.
During the meeting, also have been discussed some questions of the project carried out by the World Bank together with the government of Azerbaijan on technical equipment of the Constitutional Court.