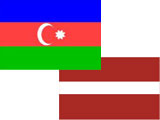 A meeting of the "All - Latvia" national association with representatives of the societies of national minorities led by the chairman of the Advisory Council on affairs of national minorities Roman Aliyev took place in the Latvian Seim. The goal was to discuss actual problems of development and integration of the national societies functioning in Latvia.
In the meeting, present was the head of the "All Latvia" parliamentary faction Einar Cilinskis, party members, the chairman of the Advisory Council on affairs of national minorities Roman Aliyev who also spoke on behalf of the Azerbaijani community, representatives of the Georgian, Tatar-Bashkir, Ukrainian, Polish cultural societies.
At the meeting, discussed were issues of education in the context of strengthening of the state (Latvian) language and how effectively to combine knowledge of the Latvian language with development and support of native culture. For politicians, it is important to understand how to help national minorities and their societies with a question of support of the culture, the native language along complete knowledge on the state language, knowledge of the Latvian culture, its history.
Roman Aliyev noted that the Azerbaijan government carries out large work on development of national societies, training of the Azerbaijan language in foreign countries, in particular popularization of the Azerbaijani culture. R. Aliyev proposed that Latvia, in turn, also has to support the development and integration of national societies in Latvia.
Also discussed was the question on broadcasting time granted on local TV channels for propagation of national culture. Members of parliamentary faction have underlined importance of this meeting from the point of view of setting-up of the Declaration of the new government to include questions on support by the state of national cultural societies in Latvia.
/AzerTAc/