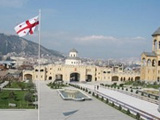 A new alphabet of Georgian language "Deda Ena" was elaborated for Azerbaijani and Armenian citizens living in that country, Georgian Education and Science Minister Dmitriy Shahkin said, Georgia Online reports.
"On Monday the first book in Azerbaijani and Armenian languages "Deda ena" will be sent to the printing house. Foreign and local specialists took part in the realization of this book.
This is a modern textbook with audio and video materials", the minister said.
/Vesti.az/