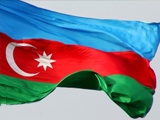 The Azerbaijani community functioning in the United Arabian Emirates (UAE) sent a letter to US President Barack Obama, US Department of State and French President, head of the Azerbaijani Community in UAE Samir Imanov said.
The letter reads: "How many innocent children and harmless people must die, for the Governments of US and European countries to comprehend the fanatical policies of Armenians?
Azerbaijani community in the GCC countries condemns the killing of 13 year old Aygun Shahmaliyeva by Armenian terrorists in the most inhuman manner.
Shahmaliyeva Aygun Zireddin Gizi was killed, and her 32-year old mother, Shahmaliyeva Elnara, injured seriously on July 14, 2011, as an explosive device blasted in Tovuz region's Alibeyli village that borders Armenia. The toy, resembling a dog, with built-in explosive device, was intentionally floated down the Tovuz River by the Armenians. Shahmaliyeva Aygun found the toy and brought it to the house of Jafarov Hasan. While playing, Shahmaliyeva threw the toy on the table, and it blasted, causing critical injuries.
A similar incident happened in 1994, when a booby-trapped toy floated down the river by Armenians blasted, killing two children and injuring one seriously.
I hope you, and the world community still remembers the murder of 9-year old Fariz Badalov by an Armenian sniper on March 2011 and many other such acts of terror are being committed by Armenian terrorists from time to time.
We know very well about the political instability in certain Arab countries, but what we fail to understand is why the International community, and distinguished countries like the US, France, UK and Russia, cannot put a stop to Armenian terrorism and psychological aggression on Azerbaijani nation. May be, there is some concealed agenda and conspiracy which simple minds are unable to figure out.
We would like to get some prompt and clear answers to these questions.
We appeal to all the countries of the world and authoritative nations, to put pressure on Armenia to halt their terrorist operations and aggressions, and also to liberate, illegally and unlawfully occupied Azerbaijani territory".
/
APA
/