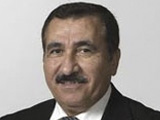 "Armenians could persuade Europe of their lies when there was no Turkish and Azerbaijani Diaspora," Turkish member of Danish parliament from Social Democrat Party Huseyin Arac said.
According to Huseyin Arac, Turkish and Azerbaijani Diaspora organizations are trying to inform the world about the Armenians' lies, problems of Azerbaijanis.
Member of the Danish parliament said he will inform his party and the parliament about his visit to Azerbaijan. He said he will organize the visit of a group of Danish parliamentarians to Baku so that they can familiarize with Azerbaijan.
"After returning I will hold discussions with the participation of the Turkish and Azerbaijani communities. We will determine the directions of our activity and do our best to act together," he said.
/
APA
/