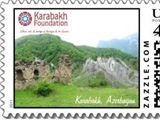 The Karabakh Foundation has printed postage stamps dedicated to Karabakh for the first time in the US history.
The Foundation said that these postage stamps, which are considered for sale, are a part of "Karabakh: Looking Back, Looking Forward" project. The historical monuments of Karabakh, ancient Alban churches, Shusha fortress are described on the stamps. The Karabakh Foundation will also present these stamps to the US well known stamp-collectors. Every person who wants to purchase these stamps can order them from online shop in Karabakh Foundation's website via this link:
http://karabakhfoundation.org/pages/shop/karabakh-stamps/
.
The income, which will be achieved from the sale of stamps, will be spent for implementation of cultural projects of Karabakh Foundation.
The Karabakh Foundation is a U.S. 501(c)(3) cultural charity foundation based in Washington, D.C., that seeks to increase awareness and understanding in the United States of the cultural heritage and traditions of the country of Azerbaijan, the Caucasus area, and the Karabakh region of Azerbaijan. While coalescing significant artistic and scholarly talent, the Foundation is nurturing a new generation of artists and scholars toward important accomplishments.
The Foundation serves as a dynamic facilitator and clearinghouse raising the public profile of Azerbaijan, its Karabakh region, and the Caucasus region in general. Main activities include preserving and disseminating cultural content via archival collecting, public programs, publications, exhibitions, speaking forums, international collaborations, scholarly exchange, artistic sponsorship, and related venues.
/
APA
/