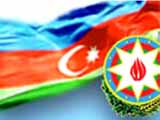 Brooklyn and Queens Boroughs of the city of New York proclaimed May 28 as Azerbaijani Republic Day, the Brooklyn and Queens Borough offices said.
Both boroughs prepared a proclamation letters that were signed by the presidents of the boroughs.
The proclamation letter from Brooklyn borough says that it is a home to large population from Azerbaijani descent and it recognizes those individuals and organizations that demonstrate an outstanding commitment to the preservation of Azerbaijan history, that increase public awareness, knowledge and appreciation of Azerbaijan heritage and culture and that put forth their resources and energies to advance Azerbaijan causes.
On behalf of all Brooklynites, I salute the members of the Azerbaijan Society of America for their ongoing efforts to strengthen our communities, I commend our friends and neighbors of Azerbaijan descent for their many contributions to our quality of life, I congratulate them as they mark the 93rd Anniversary of the Azerbaijan Democratic Republic, and I thank all these present for helping to make New York a better place to live, work and raise a family, said in a proclamation letter Marty Markowitz, president of the Borough of Brooklyn.
"Just as America's patriots fought for liberty in the Revolutionary War, the people of Azerbaijan realized their dream of freedom for 23 months in 1918. Through decades of totalitarian rule, Azerbaijanians at home and abroad stick to their democratic ideals. I salute our Azerbaijani Americans in Queens and throughout New York City as they raise the flag in the spirit of independence", said Helen M. Marshall, President of the Borough of Queens in the City of New York, in her proclamation letter to the Azeri Diaspora.
/
APA
/