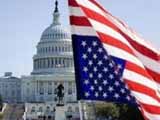 The Azerbaijani and Turkish Diaspora in the US are about to start an immediate campaign against the possible action over the passage of the HR 252, a bill that alleges genocide against Armenians by the Turks in the Ottoman Empire in the Congress.
The Diaspora's action comes right after the pro-Armenian Congressman Adam Schiff highlighted Armenian "Genocide resolution", as well as legislation to address Turkey's ongoing blockade of Armenia, and the protection of Church property and minority rights in Turkey as his next legislative initiatives in the House of Representatives.
In their turn, US Azeris and Turks declared that they will fight against those proposals.
Both US Azeri and Turkish Diasporas are going to pull out all the stops to convince US lawmakers not to proceed with a possible discussion on the "Armenian Genocide" Resolution.
"This bill would not contribute to peace and stability anywhere in the world, would increase tensions, worsen US-Turkish and US-Azerbaijan relations, overlooks the plight of Turkic and other Muslim people in the hands of Armenian armed formations in the same period of the history, damages economic relations, and wreaks havoc and damage to all US national security interests in the Caucasus, Central Asia, Anatolia, and Greater Middle East", Azeri Diaspora members said.
Both Azeri and Turkish Diasporas condemn these acts of violence against innocent individuals and remember these tragedies with great sorrow.
/APA/