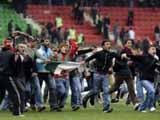 Iranian law-enforcers and fans scuffled after the match between the football club of Tabriz and club of Gum.
Azerbaijani representation of South Azerbaijan National Awakening Movement told APA that Tractor Sazi football club of Tabriz played against Seba club of Gum in Sehend stadium of Tabriz. Some of the fans from Tabriz, who were not satisfied with the decisions of the referee, were sent away from the stadium. After the match the fans marched along the central streets of Tabriz and chanted nationalist slogans. Law-enforcers and Basij forces under Islamic Revolutionary Guards Corps beat the fans. About 100 Azerbaijani fans were detained in the clashes.
South Azerbaijan National Awakening Movement said closed hearing of Azerbaijani Babek Huseyni, who was detained for chanting nationalist slogans in the match of Tractor Sazi, was held on April 26. Huseyni is held in Tabriz prison.
/APA/