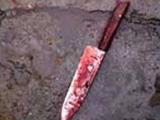 Leader of the Azerbaijani Diaspora in Nakhodka city of Primorye region of the Russian Federation Arif Shahverdiyev was killed, RIA Novosti reported.
Shahverdiyev's body was found in his café on April 24. He was knifed to death.
A criminal investigation on the fact was launched under the article 105.1 of the Russian Criminal Code (murder).
/APA/