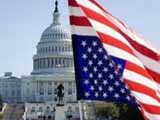 Terrorist PKK supporters are planning to gather in front of the Turkish Embassy in Washington on Tuesday, 19th of April and radical Armenians on Sunday, 24th of April.
The Azerbaijani Diaspora in US urges Turks and their friends to prevent the terrorist PKK supporters and radical Armenians from holding protest actions in front of Turkish Embassy in US Capital, next week.
"We ask all our supporters to come in front of the Turkish Embassy to show solidarity with Turks", a Diaspora member said.
Azerbaijani-Americans also sent hundreds of letters to the US Administration calling President Barack Obama not to use the word "genocide" in his speech on 1915 events on April 24.
/APA/