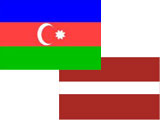 The Latvian newspaper Chas published an article about the murder of an Azerbaijani child by Armenian sniper. The paper's article published on March 17 stressed that after the murder of an Azerbaijani child situation in the Armenian-Azerbaijani Nagorno-Karabakh conflict zone become intense, the State Committee for Work with Diaspora reported.
A 9-year-old resident of the Orta Garvand village in the Agdam region was killed on March 8 as a result of a ceasefire violation by the troops. Fariz Badalov was shot in the head while playing in his yard. He was taken to hospital, but doctors failed to save his life.
The article also reflected President of the Swiss Confederation Micheline Calmy-Rey's statement voiced at a meeting with Azerbaijani President Ilham Aliyev. She said "Armenia should behave constructively and respect the resolutions of international organizations."
The author wrote that all the competent international organizations took a particular position in regard to the conflict.
The article quotes President Aliyev "The OSCE Minsk Group has been operating for over 19 years. Unfortunately, no effective results have been achieved during this period. It is time to change status quo and begin the return of refugees and IDPs to the occupied lands. To live in their native lands is their fundamental right. "
/
Trend
/