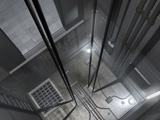 A young woman, a citizen of Azerbaijan in the ninth month of pregnancy, has fell into shaft of an elevator in Uralsk city in Kazakhstan. The accident claimed lives of a mother and baby at once.
The accident happened in 9-storied apartment building on Instrumental Street. The ambulance doctors pronounced the woman dead as a result of multiple injuries.
Stunned residents of the building said the elevator did not work well for the last few days. Public utility employees who arrived at the scene declined to make any comments.
Director of Public utility service Talgat Khairulin promised to announce causes of the incident as soon as the special commission identifies one. The woman left two small children.
/Vesti.az/