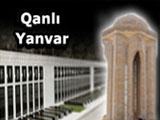 A mourning ceremony to honor the victims of the tragic events of January 20, 1990, in Baku, took place at the conference hall of hotel Novotel in Yekaterinburg, Russia. The ceremony was organized by the Consulate General of Azerbaijan in Yekaterinburg.
Opening the event, Consul General of Azerbaijan in Yekaterinburg Sultan Gasimov has made short digression into the tragic January events, emphasizing that this sad date will always live in memory of our people. He has noticed that the country leaders attach great importance to the commemoration of this terrible event, which is annually marked at the state level in Azerbaijan and in all corners of the world where our compatriots live.
Sultan Gasimov also stressed that despite all tragic pages of the history, Azerbaijan was always a tolerant country in every respect and on this background the cruel and unfair treatment of Azerbaijan should evoke a disturbance wave.
"January 20 is a day of mourning and also a day of glory for the people of Azerbaijan. Commemorating the victims of this tragedy, our people are proud of the heroes who have risen to the top of heroism. Our people will always honor a memory of victims, who have given their lives for the independence and sovereignty of Azerbaijan", Sultan Gasimov said.
Head of the Department of European Research of the Ural State University, Prof. Alexander Nesterov, Honored Artist of Russia Anatoly Brodsky, deputy mayor of Yekaterinburg Svetlana Garipova, Consuls General of the USA, Hungary, Czech Republic and other diplomats, representatives of the Azerbaijan and Russian general public and members of the Azerbaijani Diaspora attended the ceremony.
The participants watched a documentary about the Baku January massacre and were offered a memorial repast.
/AzerTAc/