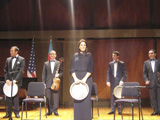 Concerts of Azerbaijani music presented by the Consulate General of Azerbaijan in Los Angeles and the Azerbaijan International magazine received an overwhelmingly positive reception with full halls in both San Diego and Los Angeles on December 17th and 18th.
Prominent musicians led by the National Conservatory rector, Maestro Siyavush Karimi, offered a special program highlighting the richness of Azerbaijani musical traditions. The group includes legendary vocals Aygun Bayramova and Mansum Ibrahimov as well as distinguished instrumentalists Elnur Ahmadov (kamanche), Elchin Hashimov (tar) and Kamran Karimov (nagara).
The audiences in San Diego and Los Angeles welcomed Azerbaijani classical pieces "Garabag Shikestesi" and "Sari Gelin" performed by Ms. Bayramova and Mr. Ibrahimov with a prolonged applause and standing ovation.
The Concert is San Diego was organized with support from Martin Kruming, a Switzer Highland resident, who is actively promoting a bilateral relationship with Baku's Nasimi District. The next concert of Azerbaijani music is planned for December 23 in San Francisco.
/Today.Az/
Click photos to enlarge: