Winner and two runners-up of sports commentators contest held by Russian NTV-Plus television channel have been selected.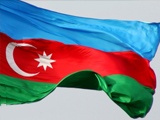 Four contestants including 20-year-old Azerbaijani Elvin Karimov got into the decisive round.
Elvin confidently coped with his task. Representatives of a jury created a situation in which, allegedly, it was necessary to replace a colleague who is late for a live broadcast. Elvin was called to replace his colleague. He had to run to the studio, where Espanyol-Barcelona match was going on for 10 minutes without a commentator. Karimov found a way out of the situation. He quickly understood what was happening and managed to introduce alleged viewers to imaginary teams. Karimov successfully coped with other similar tests.
As a result, Elvin Karimov was selected as winner by the jury composed of leading NTV-Plus commentators.
Karimov won a one year contract with NTV-Plus, plus payment of housing in Moscow. He came to the competition from Syktyvkar, capital city of Komi Republic.
He is a third-year student of philology at Syktyvkar State University. Elvin also works for "Russian Radio in Syktyvkar."
He was born in born southern Lankaran region of Azerbaijan.
/1news.az/